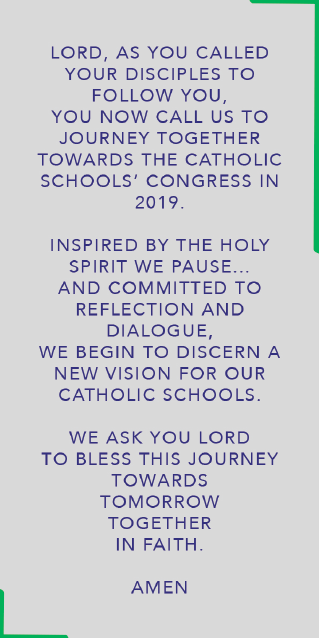 Members from the Catholic education network from across the country will gather in Johannesburg in September for Catholic education - like all education - needs to properly prepare pupils for the 21st century.
Our Third National Catholic Congress will take place in Randburg, Gauteng, from 25 to 27 September 2019. Regional conferences have already taken place around the country, and each participant was given a pack of documents comprising a discussion document titled, "The South African Education Landscape", and introductions to the five themes the September congress will discuss. These are:
Catholic Education Today and Tomorrow
Religious Education: Educating the Heart, Mind & Soul
Liberating Education for the 21st Century
Governing and Leading Catholic schools towards Tomorrow
Sustaining and Growing Catholic schools Today and Tomorrow
School leaders, religious education teachers, school governors and parents have been elected to attend the congress. These people, dedicated to Catholic schools in South Africa, will come together to formulate a new vision for our schools.
Conference delegates will get to discuss the many changes in education and society that have come about in South Africa over the last 25 years, and how education models need to shift to encompass that change.
The 21st century is defined by constant, speedy change; an Earth that is in serious trouble due to the rapid industrialisation, overpopulation and economic greed that have increased inequality worldwide; the effects of technology on how we live and interact; and a lifestyle that leaves little or no time for moments of calm, prayer and communion with God.
The good news is that Catholic schools are still schools of choice and produce good academic and social outcomes. Also, the Catholic schools' network has become far more cohesive since the 2004 congress, which came up with a vision statement that has guided us ever since.
There has also been progress in the clarification of names, functions and responsibilities of many structures in the network, and a refining of appropriate levels of accountability for Catholic education structures and schools. This gives us a solid framework from which to develop a new model for 21st-century education, and we have high hopes for many fruitful discussions at the September conference.
We are living in a South Africa that is very different to the one that emerged from our first democratic elections in 1994. South Africa's education funding is more equitable and there have been numerous curriculum changes. Sadly, many children are not benefitting from these. Neither our reading skills levels nor our maths skills levels meet even minimum international requirements.
Catholic schools are not immune to societal challenges, and we acknowledge glaring inequalities within the Catholic schools' network. Like other schools in South Africa, our schools battle racism, homophobia, xenophobia, violence, poverty and the disintegration of the family. We need to keep our eyes set on working towards the common good for all South Africans.
Our current educational model is a solid starting point. For us schooling is not simply an exercise in acquiring knowledge for its own sake, but an education in how to live in a holistic manner. The Vatican document from the 1997 Congregation for Catholic Education states that "the person ... is at the heart of Christ's teaching: this is why the promotion of the human person is the goal of the Catholic school".
With that as our first focus, we need to discuss ways in which the Catholic school can be an agent of transformation in a constantly transforming world. An integral part of this is religious education, which helps children explore the religious dimension of human experience, and mature within it.
Religious education should provide young people with the tools they need to be global citizens who promote dignity of life for all of creation, but it faces several challenges. The biggest is perhaps the shortage of suitably qualified and formed religious education teachers. We have seen a general decline in the quantity and quality of religious education being taught – some Catholic schools have eliminated it altogether. We need to come up with ways of giving structural support to religious education in our schools.
Another challenge that needs discussion is how to improve ethics, stewardship and governance within our schools. South African society has been wounded by political leaders' betrayals, and trust is going to be hard-earned in the future.
Sadly, Corruption Watch says that 10.8% of corruption cases it received in the first six months of 2018 featured school principals and staff, and school governing body members. Further, in 35.5% of Corruption Watch's school reports, the schools' funds and resources were stolen.
This is a challenge we too face, yet Catholic education has always regarded teaching, learning and governing as ministries of service. We operate from the premise of servant leadership, which deeply respects the dignity of every individual. Our work is sacred and we hold ourselves accountable to our children, parents, teachers, the wider community and, ultimately, to God. We need to invest in our greatest resource – our people.
We hope that delegates think carefully about all the challenges facing education, and Catholic education, so that our September conference is fruitful.