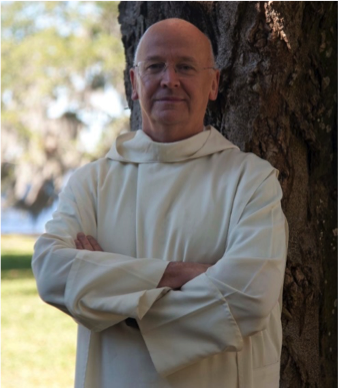 Fr Laurence Freeman, director and spiritual leader of the World Community for Christian Meditation will be in South Africa from 5-16 September this year dividing his time between Cape Town, Durban and Johannesburg. Interacting with various groups, he will share his understanding and experience of meditation and point out the many benefits of the practice for people living in an age of over-busyness and constant distraction.
The visit is co-hosted by the Catholic Institute of Education and The Jesuit Institute of South Africa.
Below is a schedule of events with contact and booking details for each.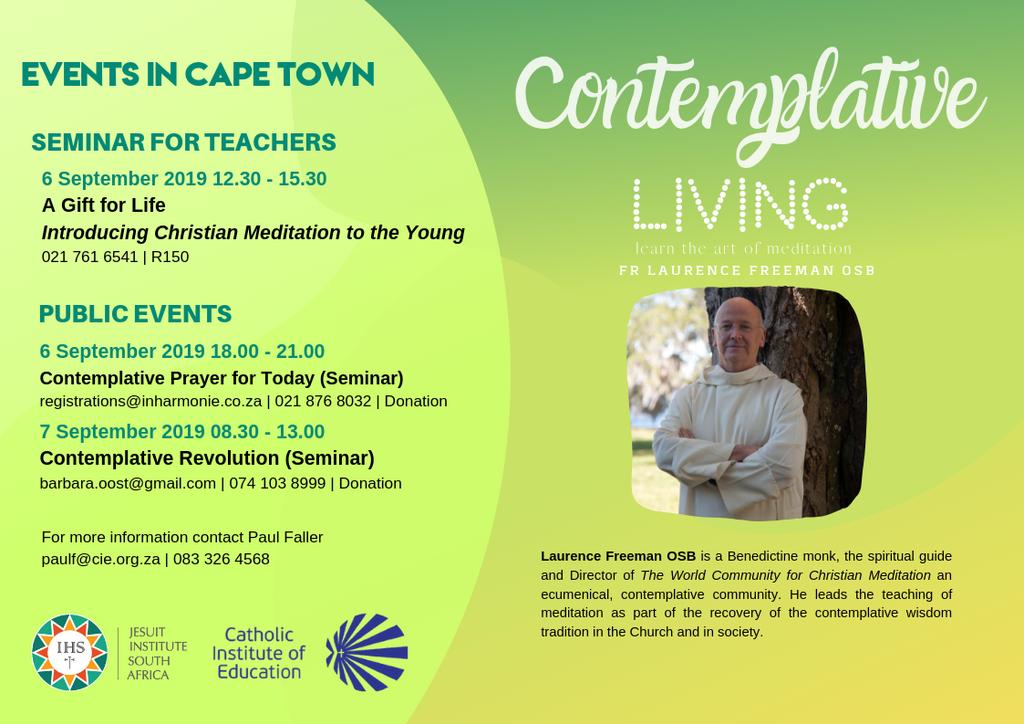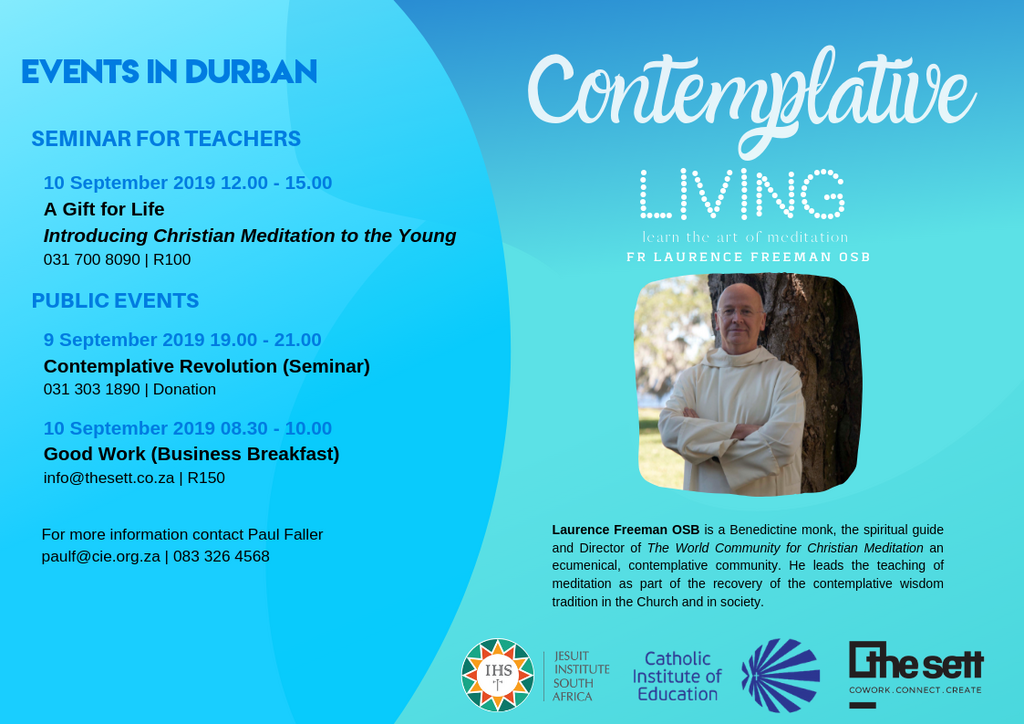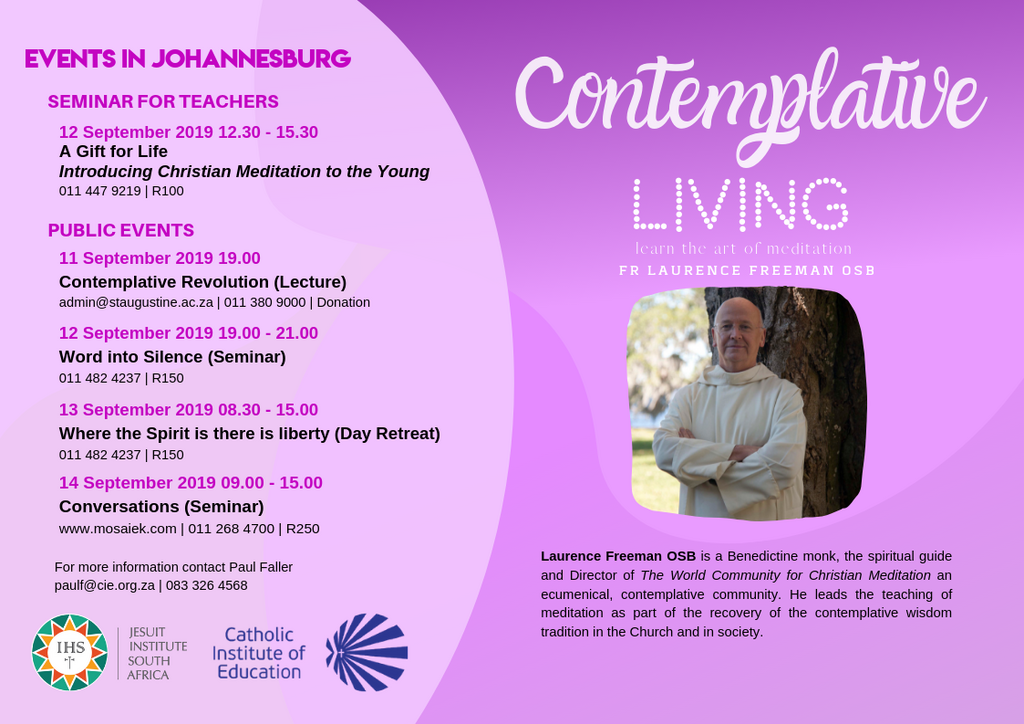 At business breakfasts in Cape Town and Durban, he will engage participants in a conversation on work and leadership. Drawing on the wisdom of the Rule of St Benedict from the 6th century, Fr Laurence applies it to modern challenges such as stress and the intensity of change. Introducing meditation as a form of interior good work, he shows how it produces both personal and organisational transformation. He has recently published a book on this topic called Good Work.
At seminars designed specifically for teachers and catechists, Fr Laurence will draw on the World Community's experience of teaching meditation around the world and the research it has delivered. He will show how natural and welcome meditation is to the young. The question, he says, is not 'why should we teach meditation in schools?', but 'why on earth don't we?'
The general public will also have opportunities to interact with Fr Laurence. At seminars in all three centres, Fr Laurence will remind his listeners that Christians have a unique tradition of meditation that also forms part of the universal wisdom of humanity. In an age of stress, multiple crisis and of change that runs ahead of our ability to control, this tradition is a major gift we have for the world today. Modern life, he says, calls for a contemplative revolution, a radical change of perception and so of lifestyle. Spirituality is living with awareness of the highest goals and meaning of human life. These are not achieved abstractly but by living in the present – which is the essential meaning of contemplation. The way we pray shapes the way we live.
Those who would like to experience a more contemplative time with Fr Laurence can attend a day retreat at the Origins Retreat Centre in the Cradle of Humankind in Gauteng. Approaching the theme, ''Where the spirit is there is liberty", he will invite retreatants to reflect on the following question: In a post-truth world and in an era of artificial intelligence what, on earth, does spirituality mean? In a 'post- Christendom' church and a secular society, what is the contribution of the disciples of Jesus to the healing renewal of humanity? Meditation does not magically solve all our problems but without doubt it allows us to approach and deal with them in a newly contemplative way.
The round of events will culminate at Mosaiek Church in Fairland, Johannesburg where Fr Laurence will be guest speaker at a day event called Conversations. He will speak of the contemplative revolution needed in the Christian tradition and society as a whole. The deep unity that this brings takes down barriers between peoples of all faiths and beliefs. The programme is suitable for those who are new to meditation in the Christian tradition and wanting to learn more about it as well as for those already practising and who wish to deepen their journey.
For further details contact Paul Faller at paulf@cie.org.za or on 083 326 4568.